"Snowpocalypse" Hits NW Montana town with 6.5 Feet of Snow in February
Rescue efforts launched as some people stranded for 20 days due to extreme conditions
    (Browning, Montana) – Make no mistake, people who live in the Rocky Mountain region of North America expect to get snow.  However, Montana residents who reside in Browning and Heart Butte have had to endure extreme weather at record levels this winter; with an astounding 6.5 foot of snow in February alone.
Browning, Montana is a town within the vast amount of land encompassed by the Blackfeet Indian Reservation.  Browning winters are usually harsh, as it rests in the shadow of the towering peaks of Glacier National Park.  However, the winter of 2017-2018 has been like no other.  Montana's Governor, Steve Bullock, declared a state of emergency in early March, and rescue efforts have been ongoing.
Perhaps you do not live an area with a threat of snow, but that doesn't mean that extreme weather is not in your future.  Recent history has shown that fires, flooding, tornadoes, landslides and hurricanes can reach the populace in almost any state, with extreme weather events occurring at record levels across the country.  At Patriot Prepared, we are aware of the situation and we would like to help get you ready for whatever life throws your way, weather related or otherwise.  Having a month of food and some water filtration is vital to securing your peace of mind in any challenging situation
Please take a look at our most recent specials below.  Click the images to save.
Remember, we now accept Bitcoin, Bitcoin Cash, Litecoin and Dash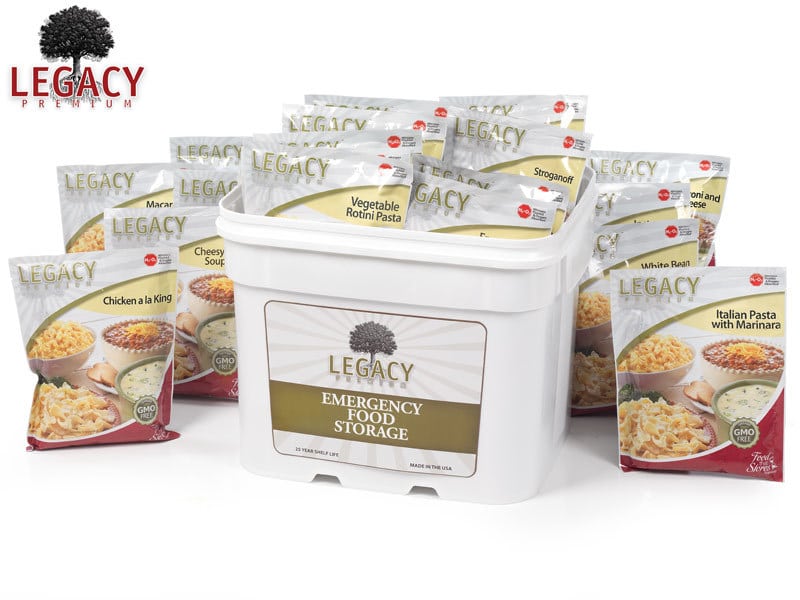 Legacy 120 Serving Breakfast Lunch Dinner Bucket – $50.00 off!
Non-GMO
High in Fiber
Low Fat
Low Sodium
Nitrogen Flushed Pouches
No HFCS
No MSG Added
Uses Sea Salt
Oxygen Absorbers
Vegetarian Friendly
Also, save big on the following items.  Click Image to save:
Powdered Peanut Butter                           Freeze Dried Broccoli                               Blueberry Pancake Mix                               Freeze-Dried Blueberries
Regular Price: $40.00                                Regular Price: $40.00                               Regular Price: $40.00                                 Regular Price: $58.00
Sale Price: $29.00
Sale Price: $29.00                                       Sale Price: $29.00                                         Sale Price: $42.00